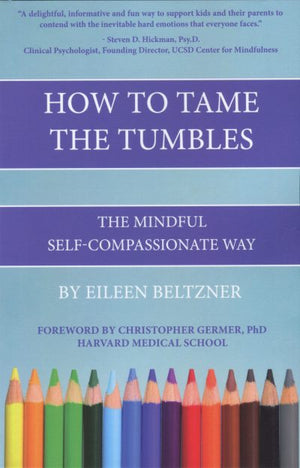 Eileen Beltzner
How to Tame the Tumbles: The Mindful Self-Compassionate Way for Parents and Children
How to Tame the Tumbles pushes the literature and practice of mindfulness to a new frontier where parents and children, together, can find an avenue to self-compassion.
This concise and engaging book of fourteen chapters will guide parents and children towards a new appreciation as to how they can deal with the 'tumbles' that inevitably arise from time to time. The book also includes helpful exercises and resource materials to 'tame the tumbles.'
"Emotion regulation is a hot topic these days. One of the under- lying factors in emotion regulation is self-compassion, or inner compassion. Just reflect for a moment, as Eileen Beltzner invites us to do in this book, how we feel when a loving person listens to us and comforts us when things go wrong in our lives. Self-compassion is the skill of doing that for ourselves, when we need it the most, and it can have a profound effect on our lives." - From the Foreword by Christopher K. Germer, Ph.D.
"How to Tame the Tumbles the Mindful Self-Compassionate Way, is a funny, engaging story that teaches children how to be kinder and more supportive to themselves when experiencing difficult emotions. There are very few books written for kids on self-compassion, and this one is sure to be a classic." -Kristin Neff, Ph.D.
"How To Tame the Tumbles offers simple powerful practices to support children and adults in, as I like to say, having our feel- ings without our feelings having us and making us say and do things we regret." - Amy Saltzman M.D., author of the best-selling A Still Quiet Place: A Mindfulness Program...
Eileen Beltzner
is both a Registered Social Worker and a Special Care Counsellor with over 40 years of clinical experience in both hospital and community settings. She is recognized as a "Certified Mindful Self-Compassion Teacher" and has been incorporating Mindful Based Cognitive Therapy (MBCT) and Mindful Self-Compassion (MSC) practices into her work with teachers, health-care professionals and other clients for a number of years. She lives in Oakville, Canada.