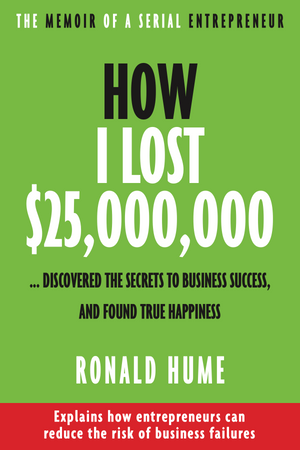 Ron Hume
How I Lost $25,000,000 ... Discovered The Secrets to Business Success, and Found True Happiness
The memoir of a radical mass-marketing entrepreneur, an autopsy of a super successful serial entrepreneur told with honesty and a wry sense of humour, revealing intimate details of his journey to massive wealth and the melt-down. This story spotlights essential life lessons for achieving happiness and fulfillment in business and in one's personal life.
Ron Hume was genetically programmed to be an entrepreneur. He achieved success because he was able to identify unmet needs and his insights allowed him to build successful businesses. His career included Vice-President of McGraw Hill Canada where he turned a successful educational publisher into a highly innovative best-selling trade publisher. He then turned his entrepreneurial skills into building an empire of self-study publishing programs. At the pinnacle of his success over 5,000,000 individuals in the US and in Canada enrolled in his Successful Investing and Money Management program. He followed that up with other hugely successful self-study programs. He had offices and warehouses in Toronto, Los Angeles and Atlanta with over 200 employees. He then established North America's first mutual funds which were sold directly to consumers rather than through stock brokers and established financial institutions. Within 18 months, Hume Funds had over $250,000,000 in assets under administration!
As The Hume Group of Companies grew, Ron lived life in the fast lane hanging out with leaders from the business world, renowned doctors and other professionals, and world famous artists. This life flamed out within a three-year when the stock market crashed and the internet transformed business practices.
Ron' story is deeply personal. Readers will learn how the hubris resulting from a series of over-the-top successes exacerbated the agony he endured after losing the business empire he had built over a twenty year period. He then fell into a dark decade of reflection during which he analyzed the factors people need to achieve authentic happiness and personal fulfillment.
"How I Lost $25,000,000 captures the roller-coaster ride that is entrepreneurship. At a deeper level, the book is a personal reflection on the true nature of success and building a truly good and productive life. There is much to be savoured in Ron's story."
Heather Crosbie, Adviser and mentor to entrepreneurs at ventureLAB
"This book is a virtual master-class for entrepreneurs. Readers will learn a strategy to raise capital fast on the best possible terms, how to launch successful sales and marketing programs, recruit the best team, and avoid the potholes that cause many businesses to fail..."
Entien Etuk, Founder & CEO, Fitgrid; Henry Crown Fellow, Aspen Institute; World Economic Forum Technology Pioneer. 
Pub. Date: August 11th 2022
Available at your local bookseller or order from Mosaic Press / IPG(US)/ Gazelle Book Services(UK/EU) / Manda Group(Canada)
Price: $21.95 USD $24.95 CDN