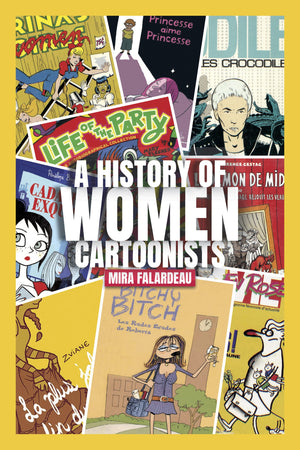 Mira Falardeau
History of Women Cartoonists - Mira Falardeau
In this volume, Mira Falardeau looks at the work of great women artists and their experiences in the industry to reveal advice and positive encouragement for future cartoonists. Heavily illustrated with cartoons and artwork from many of the best in the field, History of Women Cartoonists also asks serious questions about why there have been so few women cartoonists in the field of visual humour and if the digital age is opening more opportunities for female humourists in the future.
Falardeau is uniquely positioned to ask these questions. She has spent decades as an art historian, a specialist in visual humor, and the author of several books and essays on cartoonists and their history. She was also a former cartoonist herself—among the first generation of women in her field during the 1970s and 1980s. A History of Women Cartoonists is the first book to offer a truly global survey and analysis of the great women cartoonists of the last three decades—and a welcome addition to the history of comics and cartoons.
Mira Falardeau is well known cartoonist and academic who has had her comic strips published in Châtelaine, Perspectives, Canadian Women Studies, La Vie en rose and Recherches Féministes. Her drawings were exhibited in Art and Feminism (Contemporary Art Museum, Montreal, 1981), Pork Roasts. 250 Feminist Cartoons (Vancouver, 1981), Women Cartoonists (Cartoonist Guild, New York, 1982), Radical Humor (New York University, 1983) and The Voice of Images, Feminists cartoons (Powerhouse Gallery, Montreal, 2017).
She is the author of several books on the history of cartoonists, animators and political cartoonists in French and has served as a guest curator for several exhibitions at Le Musée National des Beaux-Arts du Québec in Quebec City and the National Library of Quebec in Montreal. Falardeau has taught "Visual Humor" and "Scriptwriting for Cartoons and Comics" at the Laval University in Quebec City and later taught at the University of Ottawa and in the Department of Cinema and Communication in the Cegep of Limoilou from 1997 to 2005. Mira lives in Quebec City.