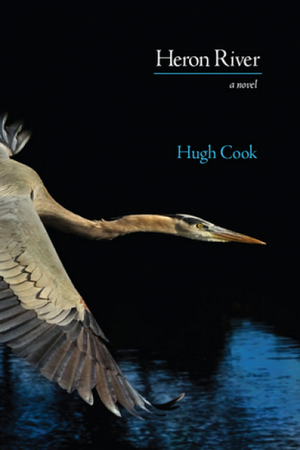 "I had the good fortune of reading Heron River by Hugh Cook. Told in multiple voices, all of them distinct and compassionately rendered, it's a novel about the possibilities in and for life when secrets do not remain hidden. There isn't a false note in it."
– Raymond Beauchemin, Montreal Gazette
Heron River probes the fierce bonds of family, the tragic consequences of human failure, and the persistent reverberations of history and memory. The story is set in a small Ontario town. Madeline Harbottle, a woman with a debilitating llness, seeks solace from the pain of the past and the challenges of the present. Her son Adam, damaged from a tragic childhood accident, finds security in his routine existence, until he falls prey to a cunning deception. Jacob Cunningham, a gifted thirteen-year-old boy, harbors a dark secret that he must confront in order to be whole. A young female police officer named Tara Burnaby tries to solve a string of break-ins following the murder of an elderly woman, and the previously staid small town reacts anxiously to the fact of a killer in their midst. Heron River explores human error and redemption, tragedy and triumph, and confronts the possibilities for human forgiveness and love amidst adversity.
Hugh Cook is the author of numerous novels and stories, including the Homecoming Man and the award-winning Home In Alfalfa. He and his wife reside in Hamilton, Ontario, Canada
Listen to a radio interview with Hugh Cook in which he discusses the background of Heron River.
Visit Hugh Cook's website for more details on his books.