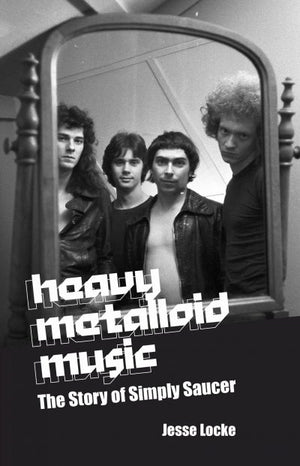 Jesse Locke
Heavy Metalloid Music: The Story Simply Saucer
Part oral history and part zine-style chronicle, this is the authorized biography of Simply Saucer, the cult psych/proto-punk band formed in Hamilton, Ontario in 1973.
Their live shows blew minds and their work ethic was unmatched but after ten years of misadventures Simply Saucer were swallowed by a black hole of drugs, crime, death, and supernatural rituals. Decades later, the electro-rockers have slowly found their way back to earth. Their posthumous collection, Cyborgs Revisited, released fifteen years after it was recorded, is now celebrated as one of the greatest Canadian albums of all time.
With extensive interviews, rare photos, and an exclusive compilation Heavy Metalloid Music shares the definitive story of these legendary Steeltown psychedelic survivors.
A beautifully written and seriously researched book. Jesse Locke has captured the essence of being a freak in a time and place where that wasn't actually celebrated. – Bryon Coley, Bull Tongue Review
At last, a historical account of one of the most original, mind-frying, and important bands. Heads rejoice! – Steve Krakow, Galactic Zoo Dossier
Jesse Locke writes sentences that crackle and contort like the best punk records, so it's only fitting that he'd apply them to a band as weird and wild as Simply Saucer. – Emma Healy, author Begin With the End in Mind

Jesse Locke has long been a gifted diviner of Canada's brilliant and unheard musical weirdos. With Heavy Metalloid Music, he not only exposes the wild and sometimes unbelievable tale of Simply Saucer, but has produced a fascinating snapshot of the economic and cultural climate of Ontario in the '60s and '70s. A smart, funny, and totally reverent paean to Hamilton's Hawkwid. – Alison Lang, Broken Pencil
Simply Saucer is not only the cosmic iron of 'The Hammer' but they are proof tat the sonic cyborgs destroyed safe music in the dead centre of the '70s, as this book will illustrate. – John Olson, Wolf Eyes, author of Life is a Rip Off