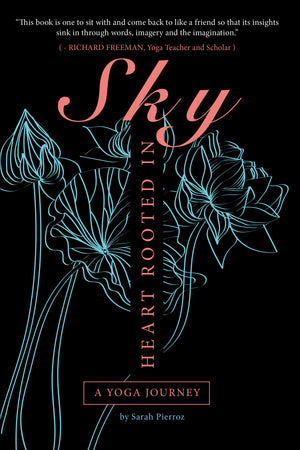 Sarah Pierroz
Heart Rooted in Sky
"Sarah Pierroz's Heart Rooted in the Sky reveals the direct experience of the body, mind, and the natural world as vibrantly joyous.

We are taken on an intense journey deep into the body and the mind, back and forth on an existential pendulum of fear and beauty. With both poetry and illustration, it makes us open our hearts like the sky to each other and all of life.

This book is one to sit with and come back to like a friend so that its insights sink in through words, imagery, and the imagination."

- Richard Freeman, Yoga Teacher, and Scholar
Heart Rooted in Sky, is a story about letting life blast you open, being humbled, and finding new ways to be. At its essence, this is a story of yoga, for it is a story of transformation.
A woman stands at the trailhead of a dark woodland passage. It is a path that many avoid. As she journeys deeper into the forest, she recognizes a change within. She takes a moment and asks herself, "What is really here?" As the woman inquires into her environment, body, breath, and thoughts, she sheds her habitual behaviours, stories, and sense of identity. By doing so, she transforms and opens to life as it unfolds.
The light poetic text is garnished with intricate line drawings depicting the natural world, abstracted anatomy, and yoga postures, all full of expression and a sense of motion.
Sarah has been studying and teaching meditation, breath, and yoga techniques for the past 15 years. She has specialized training in pranayama (breathwork) at the Kaivalyadhama Yoga Institute, in Lonavla, India. She is also an E-RYT 500 Yoga Alliance Teacher and has taught yoga full-time for many years, with over 1100+ Yoga Teacher Training hours, at Samahita Retreat, in Koh Samui, Thailand. Curious about different practices, she has spent time in retreat with Thai forest monks, practicing with Tibetan monks in Dharamshala, India, and Zen masters in Body Gaya, India. The quest for peace fascinates her.
Sarah Pierroz is a Canadian artist and International arts educator. She studied at the Arts & Science Programme at McMaster University, in Canada, then specialized in Artist in the Community Education from Queen's University. She set off to explore the world, working in Africa, the Middle East, and is now based in Thailand, chasing another story, and trying to understand more deeply the mind and heart. 
Art/Poetry Pub. Date: 2022
Available at your local bookseller or order from Mosaic Press / IPG(US)/ Gazelle Book Services(UK/EU) / Manda Group(Canada)
6 X 9 inches 91 Pages, fully illustrated
Price: $17.95 USD $21.95 CDN
ISBN PB : 9781771616089
PDF: 9781771616096
EPUB: 9781771616102
KINDLE: 9781771616119
A Sketch of Venetian History by Sarah Pierroz also available to order from mosaic-press.com