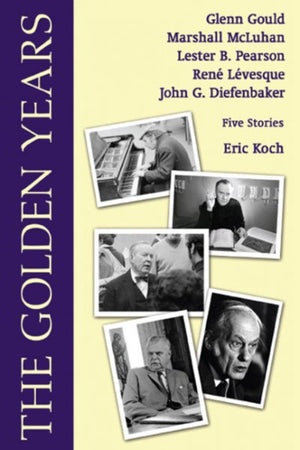 Eric Koch
Golden Years: Encounters with Glenn Gould, Marshall McLuhan, Lester B. Pearson, Rene Leveques and John G. Diefenbaker
"[Koch's] imaginative agility, inventiveness and stylish wit have enabled him to create original and highly entertaining works."
– Oxford Companion of Canadian Literature
Eric Koch's career in Canada has spanned broadcasting, both radio and television with the CBC, a prodigious author of both fiction and non-fiction whose work has been translated into Chinese, Italian and German, a university professor who taught media studies at York University and most recently as a blogger whose commentaries on contemporary issues and topics are widely read and discussed. Eric Koch has been at the heart of public affairs and public issues for over one-half century. As an astute observer and protagonist, he has witnessed the many changes in Canadian public life and in its cultural scene. The Golden Years is Koch's inside view and portrait of five major Canadians who helped transformed Canada and who defined its national identity. In many ways, we all live in the shadows of these five vital Canadians. Reading these five stories will illuminate the lives and unique character of these great Canadians and will rekindle our passion to know more about them and our country.
Eric Koch is Canada's premier historical fiction author whose works have now been translated into German, Italian, and Chinese. He is the author of seven works of fiction and numerous nonfiction works. He lives in Toronto, Canada.
For more information on Eric Koch, visit his blog for regular insightful posts.