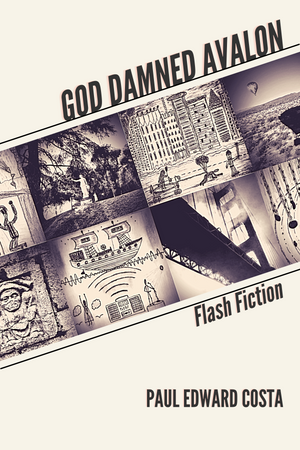 Paul Edward Costa
God Damned Avalon - Flash Fiction by Paul Edward Costa
EARLY ACCESS
30% Off Till Official Release Date!
A Debut collection of Flash Fiction from one of the most prominent young Canadian writers of this genre
"Paul Edward Costa writes towards the future, his creativity acting as a barometer to coming trends. God Damned Avalon serves as a testament to his command of Flash Fiction and his comfort in the radically changing medium of written words."
Brandon Pitts, Author of Tender in the Age of Fury and In the Company of Crows
"...an exciting collection of Flash Fiction. Through unusual plots, weird characters, and unexpected shifts, he creates a surreal atmosphere rearranging our concept of time and space."
Professor Laurence Hutchman, author and poet
"Using paradox, imagery, and symbolism, Paul Edward Costa invites us into what may seem otherworldly at first, but the universe that he so cleverly conjures up in God Damned Avalon couldn't be any closer to the human condition and our unrelenting fate as earthlings. The duality of beauty and pain, of life and death, or hope and despair, is hidden masterfully in the stories of this collection."
Efetobore Mike-Ifeta, Poet and organizer of The talent Next Door and the MAKE Open Mic
"Paul's collection demonstrates his unique ability to couple the fantastical with the concrete, creating dreamlike ( yet realistic) worlds for the reader to explore while pondering the great questions of life, love, and death."
Michelle Hillyard, Poet and Board Member of the Mississauga Writers'
Paul Edward Costa
held the position of Poet Laureate for the City of Mississauga from 2019-2021.
He has an enormous reputation as a writer, spoken word artist and teacher and has featured at many poetry readings. He has published over 60 poems and stories in literary journals including Bewildering Stories, Lucent Dreaming Magazine, Auroras, Blossoms Poetry Journal, Gyroscope Review. In 2019 he received the Mississauga Arts Council 2019 MARTY Award for Emerging Literary Arts.