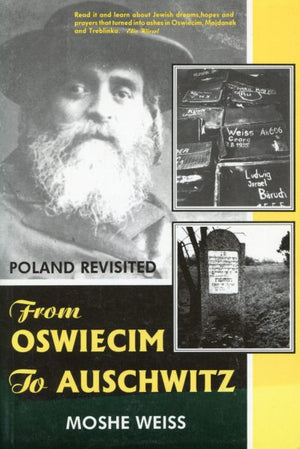 Moshe Weiss
From Osweicim To Auschwitz - Poland Revisited
"Rabbi Moshe Weiss' journey to post-Auschwitz Poland is a stirring personal document. Read it and you will learn about Jewish dreams, hopes and prayers that turned into ashes in Oswiecim, Majdnek and Treblinka. You will hear unknown stories about Hasidic miracles and Jewish faith, as well as some shocking accounts about a Jew, Monik Marion, who allegedly worked for Himmler. Above all, you will accompany the author on his pilgrimage, looking for Jews but finding antisemites. Warsaw, Krakow, Lodz, Lublin, Prezemysl: what remained of a community of three million souls? Some cemetaries, a handful of survivors, many memories and infinite sadness."
Elie Weisel, Nobel Prize Winner
"The book is, in my judgement, an extrordinary work. I know of nothing like it. I've read numerous wources, but have never seen any focus on what Rabbi Weiss describes, or that do so with anything near his authenticity, energy, detail and freshness. I consider the book a gem."
Walter Reich, Senior Scholar, The Woodrow Wilson Center, Washington, D.C.
"With great facility, Dr. Weiss has succeeded in weaving the history and religious sociology of the Jewish community of Poland into a tapestry punctuated by now extinct communities, cities and villages. His book held me enthralled…"
Rabbi Abner Weiss, Beth Jacob Congregation, Beverly Hills, CA
"After reading From Oswiecim to Auschwitz- Poland Revisited, I was emotionally drained. Would I recommend the book to the casual reader? Yes, because it provides important background material. Would I recommend the book to the advanced reader? Yes, for it provides missing answers to the most basic question of the SHOAH – Why?"
Rabbi Norman S. Lipson, Temple Beth El, Hollywood, FL
Moshe Weiss, an orthodox rabbi with a Doctorate from Yeshiva University, lives in the United States and Israel. He grew up in Oswiecim, before the Second World War. Rabbi Weiss has returned to Poland frequently during the past 30 years. This book is a witness to and reflection upon those visits.