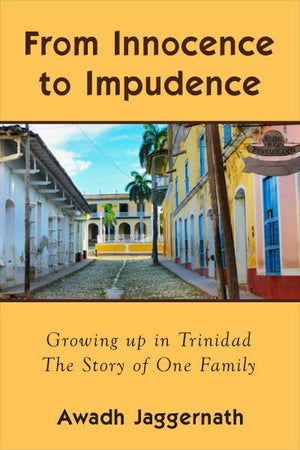 Awadh Jaggernath
From Innocence to Impudence : Growing Up in Trinidad in the 1950s
From Innocence to Impudence is the story of a family, the record of three generations, and the story of a young man growing up in Trinidad. The story begins with Awadh Jaggernath's four grandparents, who desperately wanted to free themselves from the curse of the Indian caste system. They voluntarily indenture themselves to the sugarcane plantations in Trinidad with the hope of freedom after their five year contract ends. Living with his parents and grandparents, Jaggernath documents the struggles and way of life of his grandparents and his parents. He colours his story with vivid and compelling details of the vibrant multicultural society, the lives of his immediate and extended family and his friends and the discipline, joys and sorrows, the sexual exploits, early loves and intimacies of his youth.
This is more than a memoir… it is an intimate and vivid family and personal history told in a remarkable language which captures the tonality and rhythm of Trinidadian speech. Nothing is left untold. This memoir, in terms of its honesty, finally pulls the curtain open on the real life of this man, his family, his village and his youth in Trinidad.
Awadh Jaggernath was born in Trinidad where he was educated under the British education system. He taught in elementary and secondary schools, as well as for the extra-mural department of the University of the West Indies in Trinidad. In the 1960s, he immigrated to Canada to further his education at McMaster University, University of Toronto, Brock University and York University. For decades he taught mathematics and science at the collegiate level for the Toronto District School Board and the Halton Public and Separate School Boards. He is now retired and lives in Oakville.