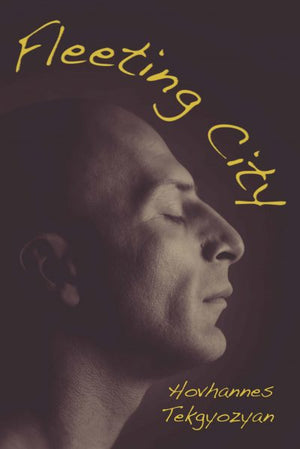 Hovhannes Tekgyozyan
Fleeting City
Fleeting City is an important novel representative of the new generation of Armenian writers. Tekgyozyan's novel has been described as a "virtual movie-novella, where mysticism and urban typologies, grotesque and humourous transitions are all interlaced." He touches on themes previously taboo in Armenian but which characterize much of the new Armenia including virtual reality, sexuality, suicide, drugs . His style resonates with an almost cartoon-animated quality.
Part humourist, part absurdist, always serious, part surrealist. always imaginative – Tekgyozyan seems to be able to draw an animated film on paper, where objects come to life and human beings take on unsuspecting forms. In this novel, for example, one of the characters has hair that seems to have branched out like a tree and comes alive. The two main characters in Fleeting City, Gagik and Grigor, tell the same story but from two different perspectives, adding and subtracting. The result is a more complex narrative, as is all reality itself.
Hovhannes Tekgyozyan was born in Yerevan in 1974. He graduated from the State Institute of Theater and Cinema, majoring in opera directing. He has written short stories, novellas, plays, essays, screenplays, plays for children and two novels. He has won major prizes, including in 2006, the Armenian-American IGEFA Prize for the best young writer, in 2012, the Best Online Playwright Prize, and in 2009, the Vahan Tekeyan Prize for his short story collection, Sun of Glass and the Grish Darbinyan Award.