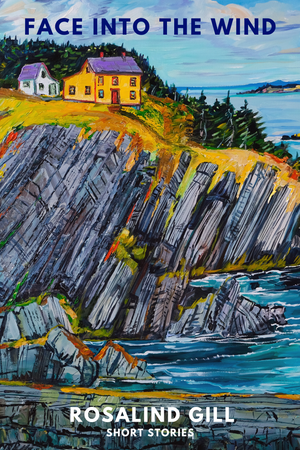 Mosaic Press
Face Into The Wind
*Early Access Pre-Order Now Available at a reduced price*
"Inspired by Nobel Prize winning short story author Alice Monro and her ability to make small town Ontario fascinating, Rosalind Gill sees her own work as an attempt to do something similar for Newfoundland and Labrador."
-Chris Quigley, The Western Star
Following on the success of her first collection of short stories, Too Unspeakable for Words, Rosalind Gill's new collection of ten short stories mostly features women protagonists embroiled in situations of thought-provoking social conflict and explores their struggle to resolve their problems.
 In the words of the Author "I am a Newfoundland writer and Face into the Wind is an identifiably Newfoundland collection. I grew up in a story-telling family in a story-telling society. This is how we find meaning and make sense of things in my culture. As well, I have always been fascinated by language. I am also a literary translator and language academic. I see my writing as a unique, modern-day literary extension of traditional oral story-telling. The narration is infused with the ironic humour and imaginary of the Newfoundland language and cultural idiom and echoes the richness of oral Newfoundland English."
Rosalind Gill's literary output is most impressive, with many short stories and literary translations published in Antigonish Review, Queen's Quarterly, Prism and other journals. She has also published three books in translation from French and Spanish -Quebec Women: A History, (1987), A Sociocritique of Translation, Theatre and Alterity in Quebec, ( 1996 ), But Everybody is Dreaming, Contemporary Cuban Poetry in Translation, ( 2004). For many years, she was on faculty at the School of Translation / Études françaises, Glendon College, York University, Toronto, ON. 
Available at your local bookseller or order from Mosaic Press / IPG(US)/ Gazelle Book Services(UK/EU) / Manda Group(Canada)

6 X 9 inches | 

174 Pages | 

Price: $21.95 USD $24.95 CDN

 

ISBN PB:

 

9781771617284 

PDF:

 

9781771617291 

EPUB:

 

9781771617307 

MOBI:

 

9781771617314