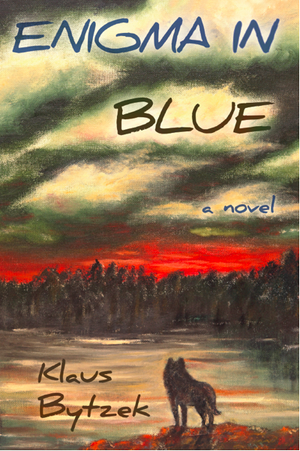 Klaus Bytzek
Enigma in Blue
From the mind of one of Canada's most noted inventors and entrepreneurs, Klaus Bytzek, comes his surprising and fascinating first novel, Enigma In Blue. At times whimsical, humorous and sometimes sarcastic, the novel's vivid and intriguing characters make it an engaging and intense read. Driven by mysterious events and strange circumstances, the complex relations of the central characters absorb the reader as the compelling plot unfolds. Both poignant and well-crafted, Bytzek's writing is an impressionistic portrait of an oddly traditional, immutable tribal family caught in a series of disturbing, almost other worldly, events.
The novel begins with the discovery of a curious fragment of possible space debris found near the edge of a lake on the boundary between a family farm and a corporate retreat. Who owns it? Is it valuable? Where is it from? What is it? The scientific community is stumped.
The discovery brings two sides into conflict as the family is dramatically pitted against the endless rivalries of ruthlessness corporate interests. The escalating tensions leads to shifting loyalties, unsuccessful attempts to resolve the dispute and the spilling of blood. As the fast paced plot unfolds, the main protagonist is forced to make difficult decisions to protect his family as he becomes embroiled in this unexpected discovery.
Klaus Bytzek is one of Canada s most acclaimed inventors and entrepreneurs. Enigma In Blue is his first novel. He, his wife and daughter, divide their time between homes in Oakville, Canada, Florida and the Bahamas.