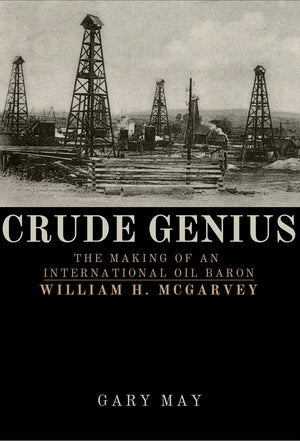 Early Access Available Now! 30% Off for all pre-orders!
"An unknown and hitherto untold story of one of the true pioneers of the international oil industry."
William McGarvey was crowned the "Petroleum King of Austria," dubbed "Europe's Rockefeller," advised the British government in the great debate over converting its naval fleet to oil fuel in preparation for World War I. His story is one that links Canada, the US, Austro-Hungary, Russia, and Romania.
Today, we are witnessing a global campaign to bring to an end King Oil's 150-year reign by shrinking the world's reliance on fossil fuels. Yet the story of the early years of how the petroleum world evolved remains wrapped in obscurity. Crude Genius fills in an important gap in that history.
The story of William McGarvey covers just five decades. Yet in that period, McGarvey became a leader in the procurement of oil, and raised it from a primitive act to a sophisticated international business. He transformed the primitive practice of oil extraction into a science and a powerful technology. He drilled and refined oil, he manufactured equipment and built pipelines.
He created a global vision and brought that vision from North America to the Austro-Hungarian province of Galicia – now part of Poland and Ukraine – and made it for a time the third largest oil producing jurisdiction in the world. He expanded his empire to Russia and Romania. McGarvey was among a handful of individuals responsible for bringing petroleum to the brink of ubiquity. The arrival of World War I in 1914 solidified its global omnipresence.
Crude Genius is based upon two decades of research in six countries. Gary May has also collected a massive photo archive that visually documents his detailed research.
This book reads like an adventure story, full of intriguing characters, stretching many decades, engaging in numerous plots and subplots, through many countries. Most of all, this book informs us how the son of an Irish immigrant to Canada put down roots in a very small industry and how his entrepreneurial spirit drove him to build a successful business empire. And, as we stand at the precipice of petroleum's slow descent, Crude Genius becomes an important document, a marker on the long route.