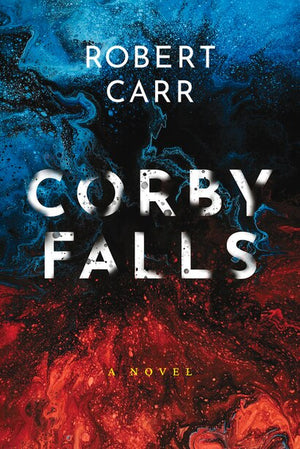 Robert Carr
Corby Falls | Robert Carr
Robert Carr's third novel, Corby Falls, follows the success of Continuums (2008) and A Question of Return (2015), both published by Mosaic Press.

---
PRAISE FOR ROBERT CARR'S WRITING
"A Question of Return is a profound, rich, layered and compelling story, a must read."
Joseph Kertes, New York Times Best-Selling Author
"...a terrific, compelling story...not a mystery novel per se, but it manages to carry a sense of mystery over more than a hundred thousand words - and this is called Art!"
Ken Alexander, former Editor of Walrus Magazine
ADVANCE PRAISE FOR CORBY FALLS
"Robert Carr has brilliantly created a compelling story filled with characters who are both flawed and complicated with an underlying tone of tension and unrest while raising issues of mortality and truth."
Elaine Mccluskey, author of The Most Heartless Town in Canada
---
From a chance observation made by his sister, Miles Rueda, the central character of the novel, realizes that something he has seen as a child many years earlier in the village of Corby Falls was most likely a prelude to murder. Everything now points to the recently deceased Dr. Biranek, a former neighbour of the Ruedas, and a prominent township resident. Miles casually tells a group of dining friends about this long-ago crime. His story acquires legs. Unexpected and trying complications follow. A huge bequest left by Dr. Biranek to the township hospital is threatened, the largest employer in the region is about to close its doors, Miles is almost killed in a savage attack. He fears for his and his daughter's safety. The cause and center of it all, Miles is at a loss. Slowly he reaches an ethical dead-end.
Miles personal life is knotty. He lives in Toronto and is recovering from a rather acrimonious divorce. After a chance encounter, he embarks in a patchy and fragile love affair. He has an ironic teenage daughter, Katelyn, whom he sees on weekends. She lives with his remarried ex-wife who plans to take her to Europe for several years.
Miles happens to work in the aerospace industry, and a secondary storyline in the novel is about the politics around a mission to land a rover on Mars.
---
Robert Carr's professional career as an engineer led him to work on the European Space Agency's Mars Program. Corby Falls is partly based upon his insider's view of that world. He lives in Toronto. 
---
FICTION
Pub Date. Apr. 21 2021
Available Mosac-Press.com or order IPG(US)/ Gazelle Book Services(UK/EU) / Manda Group(Canada)
6 X 9 inches
300 pages
Price: $24.95 CDN, $21.95 USD
ISBN PB: 9781771615204
PDF: 9781771615211
ePUB: 9781771615228
MOBI: 9781771615235