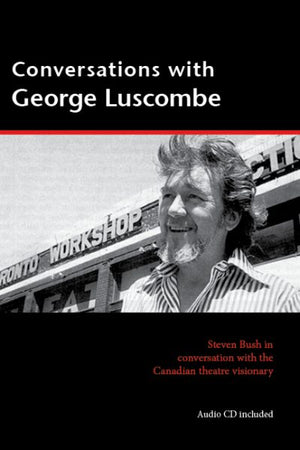 Steven Bush
Conversations With George Luscombe
Conversations With George Luscombe is a major book, a genuine document about the evolution and character of Canadian theatre. It is also extremely valuable for anybody interested in theatre. From the 1960s for many decades, George Luscombe was at the creative center of theatre in Toronto and in Canada. He co-founded and directed Toronto Workshop Productions and his productions and approach to acting redefined theatre in Toronto and Canada for three decades.
"Luscombe found theatrical fodder in virtually every social issue of the day. Chicago '70, based on the watershed trial of the Chicago 8 (who stormed the 1968 Democratic party convention), hit the stage with resounding success while the issue was still smouldering in the newspapers. Mr Bones dealt with racial issues through black minstrel-show traditions. You Can't Get Here From There dramatized the plight of Chilean refugees against the backdrop of Pinochet's CIA-sponsored military coup of 1973. Time and again, Luscombe proved that strong socialist themes were not incompatible with a highly theatrical style. As Maja Ardal, then an actress in the company, explained, 'George not only made sense of theatre; he also made sense of the world.'" – Ken Gass
Steven Bush was a Senior Lecturer at University College Drama Program, University of Toronto for twenty years. He has clocked over half a century in the professional theatre.
"By choosing to sit down and talk to Luscombe, and letting us hear and read the results of their talks, Bush has found a unique way for us to understand and be inspired by this man."
– Lib Spry, Charlebois Post
"Steven Bush's important book reminds us that, for all his flaws, George Luscombe was ahead of his time, a theatrical outlier who searched for truth and remained true to himself."
– Michael Posner, Queen's Quarterly