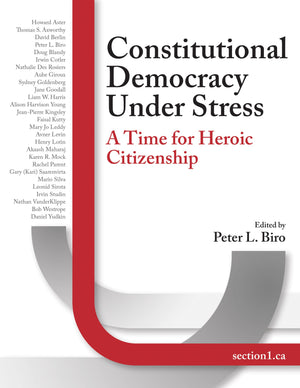 Peter Biro
Constitutional Democracy Under Stress
Constitutional democracy is not just any old form of democracy. It has a peculiar logic and is premised upon some exacting criteria and principles including good laws and institutions predicated on specific fundamental core values and principles. But it is, when fully ingrained in the public sensibility, a sort of civic serum necessary to inoculate free citizens against the ravages of anti-democratic populism, authoritarianism, racism, nativism, discrimination, xenophobia, corruption, self-dealing, and much worse. The need for civic inoculation of that sort is urgent today, globally!

And it is in that enterprise that hope lies – hope predicated on the core values and principles of constitutional democracy and on a Heroic Citizenship committed to advancing and defending those values and principles. Nowhere is such a civic mission more elegantly constitutionally articulated than in Section 1 of the Canadian Charter of Rights and Freedoms.

The essays in this volume probe the sources and malaise now confronting Constitutional Democracy. However, they go much further. Many of the essays are, indeed, road-maps for a realistic and cultivated response to our present condition. The clues for a rehabilitated democracy are found here analytically but also prescriptively.

The contributors include a cross-breed of academics, scholars, activists, cultural creators, entrepreneurs, jurists, public servants, and more. Among the outstanding contributors are Canada's former Attorney General and Justice Minister, Irwin Cotler; pre-eminent primatologist and UN Messenger of Peace, Jane Goodall; former Principal Secretary to Prime Minister Pierre Trudeau, Thomas Axworthy; former Chief Electoral Officer of Canada, Jean-Pierre Kingsley; Ontario Court of Appeal Justice Alison Harvison-Young; leading CBC investigative journalist, Dave Seglins; award-winning documentary film-maker, Aube Giroux; and some 17 additional distinguished contributors!