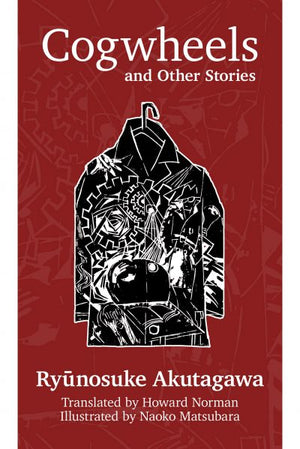 Ryūnosuke Akutagawa
Cogwheels and Other Stories
From the literary giant of Japan, who is often referred to as the "Godfather of the Japanese short story", and after whom the most coveted literary prize of Japan is named, the Akutagawa Prize, comes this collection of three of his greatest short stories.
Akutagawa is probably best known for his story "Rashōmon" which was adapted for the screen by legendary filmmaker Akira Kurosawa. While he died at the young age of 35, the author penned well over 150 short stories, including "Cogwheels" which he wrote just before his suicide in 1927. Accompanied by stunning woodcuts by renowned artists Naoko Matsubara, and expertly translated by Howard Norman, the three stories compiled here reflect the haunting, precise and brilliant style of Akutagawa and offer a superb entry point to his work. Haruki Murakami aptly described Akutagawa's writing when he remarked, "the flow of his language is the best feature of Akutagawa's style. Never stagnant, it moves along like a living thing … His choice of words is intuitive, natural – and beautiful."
Ryūnosuke Akutagawa was born in Tokyo in 1892 and during Taishō period became one of Japan's most celebrated writers before his tragic suicide in 1927.
Naoko Matsubara is an internationally celebrated Japanese artist who now lives in Oakville, Ontario. She has works in numerous collections around the world including the British Museum, Museum of Fine Arts, Boston, The Art Institute of Chicago and the Yale University Art Gallery.
Howard Norman immersed himself the literature and culture of Japan, where he spent many years of his life, before moving to Toronto, Canada.