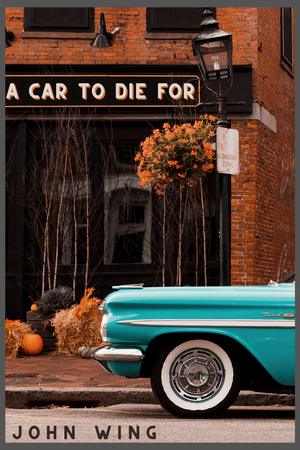 John Wing
A Car to Die For | John Wing
 A debut novel by John Wing Jr., a master craftsman of words, a renowned comedian, stage and radio personality, global traveller as a performer on cruise ships, and much more.
A novel full of wit, drama, iconic lines, powerful characterization, drama and much more. This vastly experienced author knows how to write and engage the readers!
Clarence , 45, is a keeper of secrets. He toils as a jack-of-all-trades lawyer in the small town of Elder, Michigan, on the southwestern shore of Lake Huron. It's 1975 and Clarence is engaged to defend a burglar, a career criminal who has stolen more than just money and jewels. He is offered a classic automobile as his retainer. A 1954 Studebaker Starlight Coupe. The case turns out to be more complicated than it looks on its face, involving some of the town's dark secrets, as well as one of Clarence's, long held. A story that is both dramatic and comical, set in a town filled with iconic characters all revolving around a man just trying to keep his head above water, do the right thing, and live with his conscience as well as his demons.
John Wing Jr. has been a standup comedian for four decades, appearing hundreds of time on television, including six times on The Tonight Show, ten times at the Juste Pour Rire Comedy Festival in Montreal, he reached the semifinals on America's Got Talent, has spent innumerable seasons on cruise ships, has been a frequent performer on CBC Radio'sacclaimed series The Debaters, was the creator and star of the CBC Radio sitcom Man, Woman & Child, he now has his own podcast The Bad Piano Player. He is a Canadian born in Sarnia and lives in Sunland California. You can always find him on Twitter and Instagram as @JohnWing5.