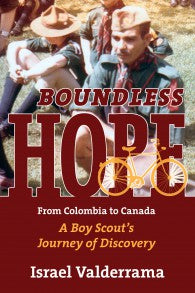 Israel Valderrama
Boundless Hope : A Boy Scout's Journey of Discovery
Boundless Hope is an exhilarating travel memoir that takes readers through shipwrecks, border wars, snakebites and love affairs, revealing a remarkable portrait of adventure that crosses ten countries in the mid-1950s.
The story beings in the 1950s as Israel Valderrama, a young man from a tiny village in Colombia, sets off to seek his fortune in Medellin. After meeting a group of Boy Scouts and hearing about a World Jamboree of Scouts in Niagara Falls, Canada, Valderrama takes his bicycle and sets out on a wild adventure through ten countries—Panama, Costa Rica, Nicaragua, Honduras, El Salvador, Guatemala, Mexico, the United States and, finally, Canada. Over the nine-month trip through mountains, forests, jungles, desert and cities, Valderrama tells of escapades and misadventures, friendship and love, as he is stuck on a capsized boat with missionaries, caught in border gunfights in Costa Rica and bitten by a rattlesnake in Mexico. Accompanied by photos documenting the journey, this memoir paints a remarkable portrait of life and discovery.
Israel Valderrama currently lives in Burlington, Ontario, and is an early pioneer of the Latin American community in Canada. His bicycle is now part of the Niagara Historical Museum in Niagara-on-the-Lake, Ontario. He remains active in the scouts.
Watch an interview with the author on YouTube.