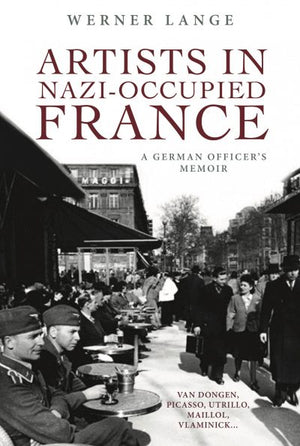 Werner Lange, Leonard Rosmarin
Artists in Nazi-Occupied France
Artists in Nazi-Occupied France is the memoir of Werner Lange detailing his experiences as a senior Nazi Officer during the Occupation. From 1940 to 1944 Werner Lange served as a Lieutenant of the Propagandastaffel, the German propaganda service in Paris, overseeing visual artists still living in France. His was a privileged position and he enjoyed the cultural life of Paris, even during the occupation years. From their Champs Elysées Head Quarters, the Nazi administration oversaw the artistic and intellectual life of occupied France. With Doctor Werner Lange at the very heart of the system where he organized the notorious official visit by French artists to Nazi Germany, a major success for the Propagandastaffel, as well as the Arno Breker exposition in the Palais de Chaillot. Throughout his memoir, Lange includes stories of his encounters with his "friends" including renowned artists such as Maurice Utrillo, Pablo Picasso, Kees Van Dongen, Aristide Maillol, Gertrude Stein and Jean Cocteau.
After sitting untouched for decades in the archives of renowned gallery owner Diane Vierny, Lange's memoir was discovered by publisher Victor Loupan and published in France in 2015. Now this fascinating first-hand account of Paris during a very dramatic period of French history is published in English for the first time. No other memoir of this period provides such intimate and detailed accounts of the day to day lives of artists during the Occupation.
Werner Lange was assistant director of the Museum of Fine Arts in Berlin prior to World War II. When the Nazis occupied France, Lange was sent to Paris as a Lieutenant of the Propagandastaffel, the German propaganda service. Lange was tasked with liaising with visual artists living in occupied France to ensure they acted in the best interests of the German occupiers. After the war, Lange eventually returned to France and wrote his memoirs in the early 1980s before committing suicide.
Leonard Rosmarin is a Canadian professor of French literature and translator. He is the former Chair of the Department of Modern Languages at Brock University and has translated numerous works from French to English including Saint-Germain-des-Pres by Gerard Bonal (Mosaic Press, 2016) and The Age of Diversity by Jean-Louis Roy (Mosaic Press, 2017).