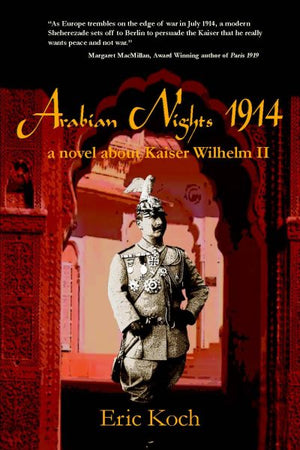 Eric Koch
Arabian Nights 1914 by Eric Koch
"[Koch's] imaginative agility, inventiveness and stylish wit have enabled him to create original and highly entertaining works."
– Oxford Companion of Canadian Literature
Arabian Nights 1914 begins in 1914…the world is on the precipice of a World War. The great powers, Germany and the Ottoman Empire face each other. Ouda is a small Arab desert kingdom, poor and isolated. Zade, a direct descendant of Scheherazade, is convinced that Ouda is doomed unless it becomes a modern, secular state and adopts science and technology. Her king's model must be the quintessential modern monarch, Kaiser Wilhelm II of Germany. The Oudian Ambassador in Berlin sends books, documents, information praising the virtues of the forward-looking Kaiser. Late June, 1914. Zade learns about the assassination in Sarajevo of the Austrian heir to the throne. The world war must be stopped. She immediately decides to go to Berlin, seduce the Kaiser and preserve the peace. Full of intrigue, seduction, exotic characters, where the 'seductive middle east meets the modern west Arabian Nights 1914 is a totally engrossing novel. Like his previous works, Eric Koch introduces the reader to a by-gone but crucially important historical world. All his characters are well researched and reflect the reality of the period. In the master's hands, they are plausible, human and fully entertaining.
Eric Koch is Canada's premier historical fiction author whose works have now been translated into German, Italian, and Chinese. He is the author of seven works of fiction and numerous nonfiction works. He lives in Toronto, Canada.
For more information on Eric Koch, visit his blog for regular insightful posts.