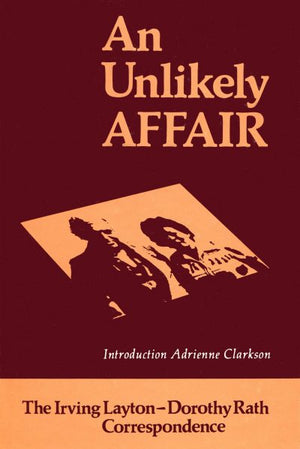 Dorothy Rath, Irving Layton
An Unlikely Affair - The Irving Layton - Dorothy Rath Correspondence
"The book might be called a pleasantly absorbing read. If we don't disturb it, then it won't disturb us…
…compelling and touching…"
– Toronto Star
"An Unlikely Affair is gossipy, erratic, sometimes embarrassing, usually lively. Anyone with an interest in Canadian poetry will find it fascinating. Anyone seriously interested in Layton will find it indispensable."
– Globe & Mail
"The occasion of such a friendship is the evidence of a tiny miracle, of words transformed into the flesh of friendship. Any relationship of love and respect is to be cherished in a dark world where only such things give meaning and warmth, understanding and hope. The famous poet and the humble fan – no, it is not what it seems, a cliche of hero worship and verbal laurel wreaths. It is more human and direct, surprising and moving. It is a relationship, so rare nowadays, in which workds on a page matter more than events, in which expression is paramount over action. A reminder is an existential age to the leisure and protection and glorification that words used well between people can offer. In the deepest sense, it is civilized. It is also one half of a novel by Irving Layton, a creation as real as any essay or poem, showing the artist and his audience locked in eternal need."
Adrienne Clarkson
She heard him read his poetry in London, Ontario. She wrote him a letter. He answered her. She wrote him another letter, he answered her, she wrote another… The correspondence lasted fifteen years, from 1961-1976. In this unusual volume, we finally see the many sides of Irving Layton. He reveals himself honestly, painfully, intelligently – provoked by the most unusual woman. The correspondence covers a period in Layton's life full of personal turmoil and great poetic achievement.
This book will be of interest to anyone who has any curiosity about Layton, anyone interested in Canadian literature and letters, or anyone who wants to read a moving personal document of friendship between two extraordinary people.
Irving Layton is Canada's greatest poet. The author of 45 books, his works have been translated into 12 languages, including Italian, Spanish, French, Polish, Korean, Greek and Dutch. Major editions of his work have recently been published in Italy and Spain. He was nominated for the Nobel Prize for literature.