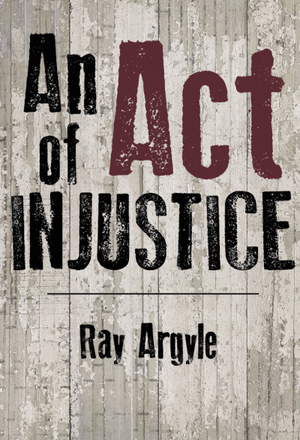 Ran Argyle
An Act of Injustice
"An Act of Injustice brings it all home, a study of crime long forgotten but one that should be remembered in this day and age of reversing verdicts of the innocent."
 
— Andrew Armitage, Owen Sound Sun-Times
 
"In An Act of Injustice, Ray Argyle has written a multi-layered combination of murder mystery, love story, and socio-political study, an historical novel rich in detail and complex characters, shedding light on issues that still plague our justice system today."
 
–Diane Schoemperlen, author of First Things First and This is Not My Life
 
"Ray Argyle has created a panoramic and absorbing read in this compelling tale of life in Victorian Canada"
 
— Jeanette Lynes, author of The Factory Voice
 
"… an author who writes exceptionally fascinating stories on social and cultural change."
— The Globe & Mail
A bride, a groom, and a lover. Each with secrets from their past that when exposed, will change their lives forever. One will die, another will hang, and the survivor will begin an obsessive twenty-year odyssey to discover the truth.
Three people caught up in the harsh class differences and religious and racial prejudices of Victorian Canada, where a vast new territory – the "Queen's Bush" – is being opened to settlement in Ontario's Georgian Bay country.
Inspired by the true lives of Rosannah Leppard and Cook Teets, real people who lived and loved, An Act of Injusticefollows disgruntled newspaperman Leonard Babington in a combination courtroom drama, murder mystery, and a meditation on the moral malaise of Victorian Canada. His obsession to find the killer plunges him into the labyrinth world of Ottawa power politics, the salons of a smug and self-satisfied "Toronto the Good," and the licentiousness of the city's Insane Asylum.
Ray Argyle achieves literary distinction and story telling mastery in this Canadian historical novel that brings the urgency of today's headlines to the struggle for romance, justice and equality in a young Canada making its way into the 20th Century.
Ray Argyle has been a journalist, publishing executive, and communications consultant. His books include five biographies of fascinating personalities, including French leader Charles de Gaulle, ragtime musician Scott Joplin, and Canada's last Father of Confederation, Joey Smallwood. Argyle has worked as a journalist with United Press International, the Regina Leader-Post and the Toronto Telegram. He founded Argyle Communications Inc. and has served as a member of the Board of Trustees of the McMichael Canadian Art Collection, Kleinburg, Ont., and the Scarborough (Toronto) Board of Education. Ray lives in Kingston, Ontario.
For more information on the author, visit Ray Argyle's website.
Follow Ray Argyle on Twitter.