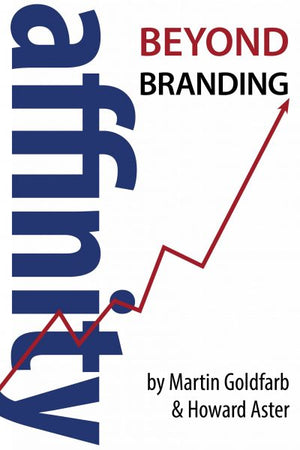 Martin Goldfarb & Howard Aster
Affinity: Beyond Branding
"… you are by far the smartest business intelligence and strategy advisor I have ever met …"
– Darryl Hazel, former Senior Vice-President and former Vice-President of Marketing, Ford Motor Co.
"Interesting… graceful, flowing writing…the stories from the front lines of his market research are engrossing"
– The Globe and Mail
"Martin is the most talented and brilliant Brand man I ever met in my entire working life. "
– Massimo Ghenzer, former President/Executive Director Ford Italy, former Director Trenitalia SpA
"What a great book – full of insights, wonderful 'stories', a tour de force!"
– Marshall Cohen, Cassles Brock and Blackwell LLPCEI, former Deputy Minister of Finance and Energy, Mines and Resources, Government of Canada, CEO Molson's
Affinity is cultural consumer anthropology. It is about observing and understanding purchasing behavior, and about influencing that behavior. Affinity is all about culture and the way we live; about the artifacts around us and how we feel or associate with them; it is the reconnection between business and the street, between the storyteller and the listener. Story telling is fundamental to creating affinity and leadership in our society. Brands come and go and try to re-create themselves. Good brands attach themselves and propagate values that are enduring. They can outlast the many economic cycles that are part of social transformation. Affinity is the result of effective branding process. Affinity is the result of effective story telling. It is the key to understanding consumer choice in the 21st century! Affinity has immense repercussions in the political world. How do people connect not just with products but with politicians? Affinity is the clue, the key to unlocking this magic.
Martin Goldfarb is of the most successful entrepreneurs in Canada and a leading expert in the study of human behavior as it relates to the marketplace and society. He built Goldfarb Consultants into an international company with 26 offices throughout North America, South America and Europe. Goldfarb has been a consultant to many national and international companies including Ford Motor Company, Toyota Europe, DeBeers, Four Seasons Hotels and Resorts and others.
Howard Aster taught at McMaster University, Carleton University and McGill University in the Department of Political Science and has served as a consult to numerous government departments and cultural organizations in Canada. He is the author or editor of eleven volumes and has published over 100 articles.