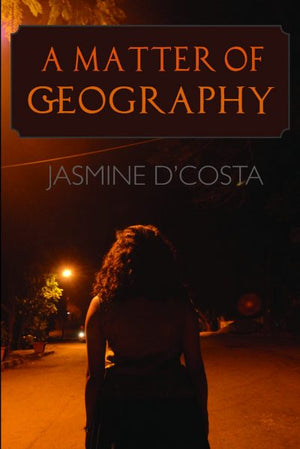 Jasmine D'Costa
A Matter of Geography
Short-listed for the Tuscany Prize
(for unpublished manuscripts, 2015)

"They were neighbours – Christians, Jews, Muslims, Hindus – till Bombay's religious violence tore their community apart. What is the meaning of ' home' to someone who has emigrated? Can love conquer geography? Jasmine D'Costa elegantly explores these ever-changing human relationships within the cosmic framework."
— Sylvia Fraser, author of Pandora and The Rope in Water

"With a richness of details, Jasmine D'Costa, gently and insightfully, through the eyes of childhood innocence, lifts the veil on a tumultuous time period in India where violence and religious hatred swept through a peaceful, diverse and tight knit community, forever altering the lives of its inhabitants. More than ever and in difficult times, A Matter for Geography is a much-needed glitter of hope."
— John Calabro, author of An Imperfect Man and The Cousin

"Jasmine D'Costa's A Matter of Geography is a brave commentary on the place many of us carry in our hearts as home. It leaves us with the question, is there a true sense of shared belonging or are some Indians more equal than others?
— Shagorika Easwar, Editor, Desi News and CanadaBound Immigrant

A Matter of Geography begins in the early 1990s in the heart of Bombay where young Peter and Anna are neighbours residing with their families. They live in the Billimoria Building, ensconced in the Catholic ghetto. When Hindus destroy a mosque in the distant Indian state of Ayodhya, riots explode in Bombay, the worst the city has witnessed. 
Peter and Anna, just 21 and 16 years old, are caught in the explosion while their families take on the task of sheltering a Muslim neighbor. Amidst this turmoil and tragedy, Anna's family migrates to Canada and she is separated from Peter, just as their love blossoms.

Fifteen years later, Anna returns to India to claim property she has inherited. For an instant, she believes she may have a second chance with Peter, but sectarian violence builds walls between them once again. Anna and Peter are faced with difficult choices as past, present and future frame a powerful portrait of a city, a people in crisis and two conflicted lovers.

Jasmine D'Costa work has been published and reviewed nationally and internationally. Her first book, Curry is Thicker than Water, was long-listed for the Frank O'Connor Prize, and nominated for the White Pine Award. Her manuscript for what would become A Matter of Geography was short-listed for the Tuscany Prize in 2015 and her short story was shortlisted for the Dastaan International Prize (2015). She is the past Writer-in-Residence of the Heliconian Club, Canada and will take over as Vice-President in 2016-17. She lives and works in Toronto, Canada.