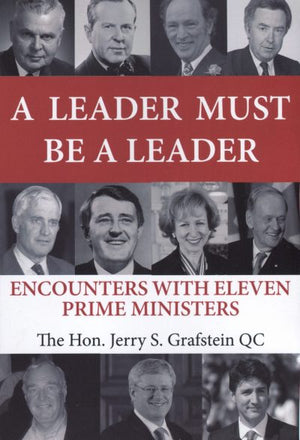 Jerry Grafstein
A Leader Must be a Leader
Senator Jerry Grafstein has been actively engaged at the centre of Canadian politics for more than six decades. He has been a political confidant and strategist to some Prime Ministers, a keen observer of others and he has watched them all very closely. The eleven Prime Ministers are John Diefenbaker, Lester B. Pearson, Pierre Elliot Trudeau, Joe Clark, John Turner, Brian Mulroney, Kim Campbell, Jean Chretien, Paul Martin, Stephen Harper and Justin Trudeau. No other Canadian has been so close to so many Prime Ministers, Liberals, Progressive Conservatives and Conservatives, as Jerry Grafstein.
"The essays in this book are about political leadership in modern Canada. Based upon impressions and personal encounters with each of the last eleven Prime Ministers, I have assessed their paths to power and have considered the imprints and legacies that they have left on the pages of our history.
Like all politicians, early on I became obsessed with the factors that made a leader a leader. Was leadership a natural or a learned skill set? What unique amalgam of oratory, ambition, character, persistence, doggedness, detachment, decisiveness, empathy, intelligence, personality, experiences, energy, memory, common sense, ideas, judgement, temperament and, most especially, self-awareness of one's persona, separate wannabee leaders from the pinnacle of leadership?"
A Leader Must Be a Leader is a unique book written by an acute legal mind, a powerful political strategist, a very successful media and communication expert, an engaged Canadian and a most thoughtful Liberal. Senator Grafstein has an uncanny ability to assess, evaluate and appreciate these ten Canadian Prime Ministers with insight, humour and generosity. This book is a veritable voyage through Canada's modern history and it will be read, studied and discussed very widely.
Jerry S. Grafstein is a Canadian lawyer, businessman and former politician, who served in the Senate of Canada from 1984 to 2010. In 2005 he was named one of Canada's top 100 Public Intellectuals. He is the author of Parade: Tributes to Remarkable Contemporaries (Mosaic Press, 2017). Jerry lives in Toronto, Canada.