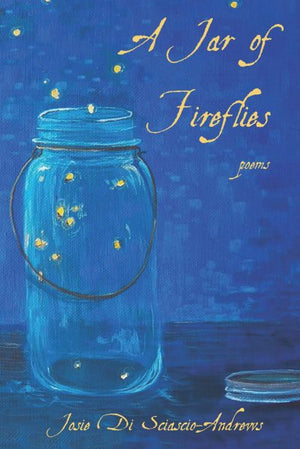 Josie Di Sciascio-Andrews
A Jar of Fireflies - Poems by Josie Di Sciascio-Andrews
"Josie Di Sciascio-Andrews is sure to become one of Canada's most prolific and public poets."
– I.B. Iskov, Founder of the Ontario Poetry Society
"Josie Di Sciascio-Andrews takes the universe, expanding from its zero point and molds it into a series of poems about intimacy, angst, memory, identity, death – and the hope – the impossible light that keeps us all going.
– Michael Mirolla, Brassani-Prize winning author of The House on 14th Avenue
A Jar of Fireflies is Josie Di Sciascio-Andrews third collection of poetry. Her muse is nature and our place in it. Writing about the natural world is a spiritual experience. With impending natural degradation, it becomes even more important to exalt the wonder of the natural world. It is our soul. It is us.
Josie Di Sciascio-Andrews lives in Oakville, Ontario, Canada. She is a poet, writer and French as a Second Language teacher. Born in Italy, she studied at the University of Toronto and later at Harvard University. She has published two previous works of poetry and has won numerous awards for her work including the Arborealis Anthology Prize, Winsome Words Anthology First Prize Winner and the Ontario Poetry Society Ultra Short Poem Contest.
Follow Josie Di Sciascio-Andrews on Twitter to get the latest news on readings and events.