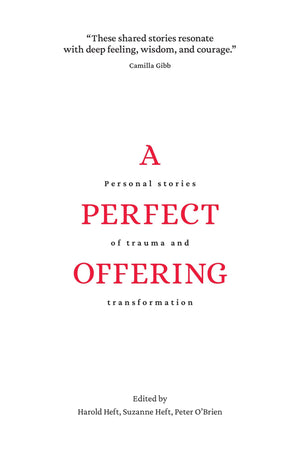 Harold Heft | Suzanne Heft | Peter O'Brien
A Perfect Offering: Personal Stories of Trauma and Transformation | Harold Heft - Suzanne Heft - Peter O'Brien
What happens when your world cracks apart? When everything you thought you knew no longer holds true, and the life you used to live suddenly evaporates?
A Perfect Offering illuminates the dark recesses of trauma—the sudden loss of a child, surviving sexual assault, coping with the legacy of residential schools, enduring war and imprisonment, living with chronic illness and shines with the imperfect grace, courage and resilience of the human heart.
The stories in A Perfect Offering will shock and disorient you. Others will inspire and comfort. All are illustrative and compelling.
–
"This emotionally honest book is simultaneously brutal, beautiful and deeply inspiring."
Jennifer Meeropol, grand-daughter of Ethel and Julius Rosenberg, and Executive Director of the Rosenberg Fund For Children in Massachusetts.
"A riveting insight into the act of survival. This book will break your heart right open, and that's a good thing—vulnerability draws us closer."
Mike Downie, Filmmaker and Co-Founder of The Gord Downie & Chanie Wenjack Fund
"These stories of survival and triumph come out of intense pain, loss, and sadness. The
effect can be initially shattering, then affirming, and at times exhilarating. I applaud the
courage of these storytellers."
Chaviva Hošek, OC, former CEO of the Canadian Institute for Advanced Research in Toronto.
The 31 contributors include Jennifer Finney Boylan, trans activist and a regular contributor to The New York Times; Captain Trevor Greene, who was attacked by an axe-wielding teenager near Kandahar in 2006; Iranian- Canadian author of Prisoner of Tehran, Marina Nemat; Jules Arita Koostachin, band member of the Attawapiskat First Nation; and Paul Watson, who was awarded the 1994 Pulitzer Prize for Spot News Photography. For many other contributors, this will be their first publication.
–
Harold Heft was the author of The Shape of This Dying: Remembering Alexander Bercovitch (Mosaic) and Build a Better Book Club (Macmillan Canada). At age 51, after a sudden diagnosis of an inoperable brain tumour, Harold died on 23 July 2015.
–
Suzanne Heft grew up in the U.S., the Middle East and Europe, riveted by stories of redemption and transformation. She is a fundraising executive for worthy charitable causes, the mother of two sons, and the wife of Harold Heft.
–
Peter O'Brien has written or edited seven books, including Introduction to Literature: British, American, Canadian (Harper & Row) and Cleopatra at the Breakfast Table (Quattro). He publishes widely, and exhibits his artwork internationally.
Reprinted Spring 2021
Available at your local bookseller or order from Mosaic Press / IPG(US)/ Gazelle Book Services(UK/EU) / Manda Group(Canada)
6 X 9 inches
240 pages, 40 Photos
Price:$21.95 USD$24.95 CDN
ISBN PB: 9781771615129
PDF: 9781771615136
EPUB: 9781771615143
MOBI: 9781771615150