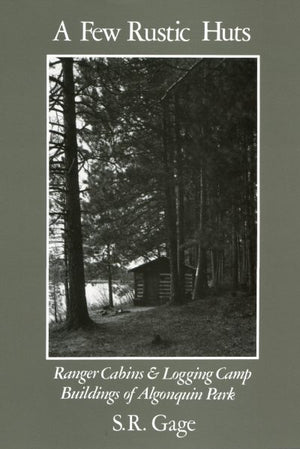 S.R. Gage
A Few Rustic Huts : Ranger Cabins and Logging Camp Buildings of Algonquin Park
"…an evocative plea for the preservation of a heritage unknown to most…"
– Canadian Geographic Magazine
The photographs contained in A Few Rustic Huts, of ranger cabins and lumber camp buildings in Algonquin Park, speak of a another time – a time before aircraft were widely used on patrol, a time before lumber roads were year round thoroughfares. They speak of the days when woodworkers lived an intimate relationship with the environment; when their work-a-day home was in the bush and visits with family were infrequent.
The buildings of Algonquin Park's interior were, with few exceptions, abandoned by the 1960s and their biodegradable components soon responding to the cycles of nature. For most of the structures shown in this book, this will be their final epitaph. A documentation of simple, utilitarian buildings, constructed by craftsmen with obvious skill and pride in their work. A tribute to a bygone era.
S.R. (Sandy) Gage is a freelance photography and writer. He studied photography at the Visual Studies Workshop (Rochester, N.Y.), Ryerson and OCAD.